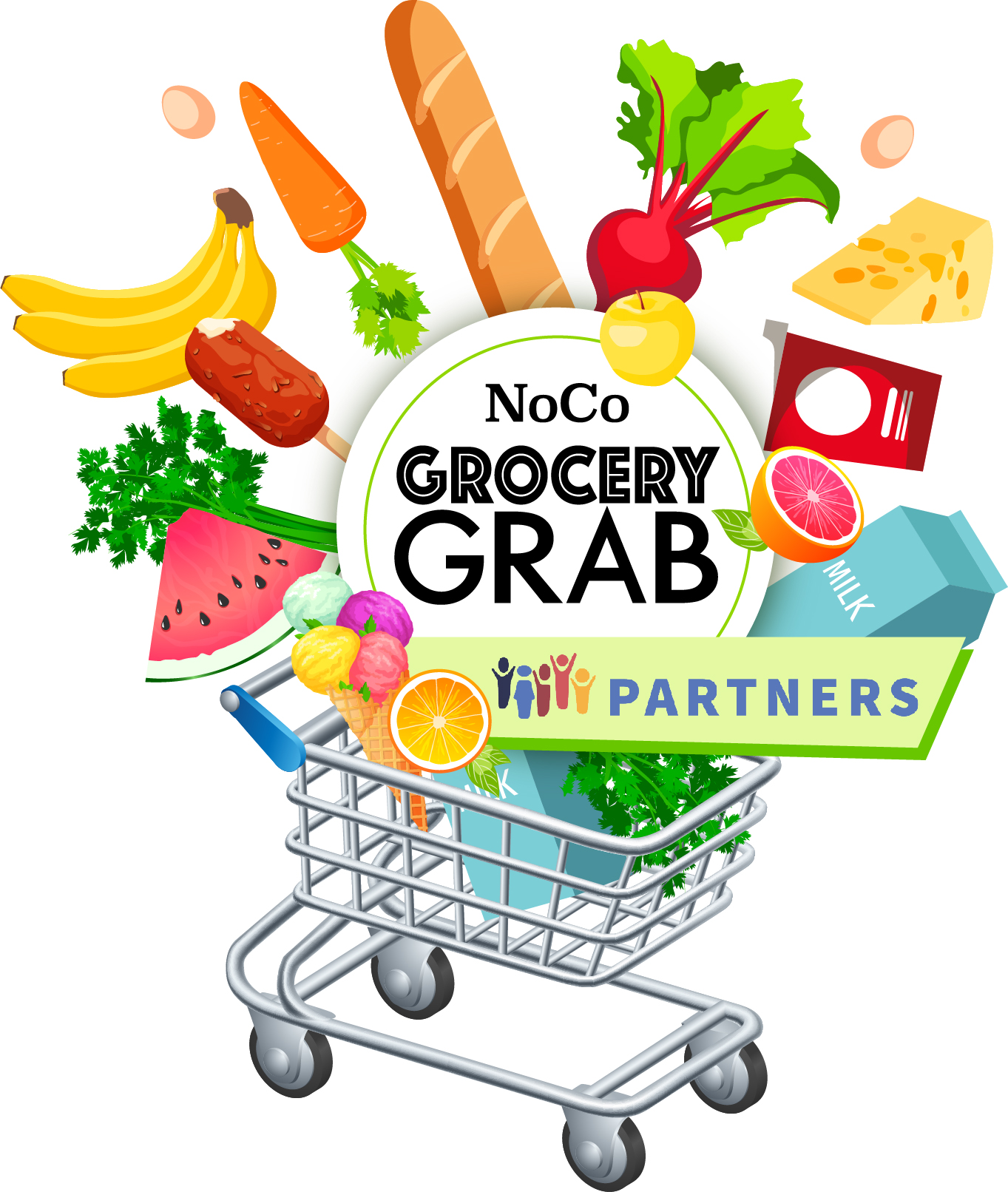 NoCo Grocery Grab
 Join Us for the First-Ever NoCo Grocery Grab!
This fresh event brings the energy of the classic TV show Supermarket Sweep to Northern Colorado. 
Partners hosting a raffle for the chance to win three top prizes— up to $1000,  $750, or $500 from Lucky's Market. 
Then on April 30th, our winners will have a limited amount of time to grab whatever they can (with a few hidden prizes along the way).
Winners will be posted here on within 24 hours of our raffle drawing. The drawing will take place virtually on our Facebook Live and in-person at 530 S College Ave. Unit 1 Fort Collins, CO beginning at 10:30 AM on April 26, 2021. Winners do NOT need to be present at the drawing to be eligible to win. 
For questions, please contact Kylie Massman by email or phone at 970 484-7123.
Frequently Asked Questions
What is the timeline for this event?
The raffle will close at April 25, 2021 at midnight.
The drawing for our shopping event winners will begin at April 26, 2021 at 10:30 AM.
Winners must confirm their win and submit the names of the shopping participants by April 27, 2021
All participants must arrive at 5:30 AM at Lucky's Market in Fort Collins, CO on April 30, 2021
The final video of the shopping event will premier on the Partners' YouTube page on May 12, 2021
What are the rules for this event?
Each winner will select two shoppers to participate in the shopping event. (The winner can be one of the shoppers, but is not required to be.)
The team of two will have four minutes to gather their groceries and return to the front. Each team will receive one shopping cart and one basket. When either is full they may grab a empty cart/basket. Shoppers DO NOT have to remain together.
After the four minutes is up, shoppers will check out with the help of the Lucky's employees and Partners volunteers. If a team is over their amount they must eliminate items to get under their total. If a team is under their amount, that is what items they will receive. Participants will NOT receive the difference in cash or any other good.
Will this event be filmed?
Yes. All participants, volunteers and employees will be filmed during the shopping event. This will then be shown to the public on May 12, 2021. All participants, volunteers, and employees will sign a media release. (Any participant under the age of 18 must have a parent signature).
Are there age restrictions on this event?
All ticket holders and winners of our raffle must be 18 years of age or older. Shopping participants must be 14 years of age or older.
Are there restricted items during this event?
Yes. All alcohol, tobacco, medicinal and apothecary items will not be available during the shopping event. Some quantities may be limited as well.
What COVID-19 restrictions will be in place?
All shopping participants, volunteers, employees, and contractors will be required to wear masks during the shopping event. All participants must also not have had or come into contact with anyone experiencing COVID symptoms in the last 10 days.
Is my raffle purchase tax deductible?
No. Your raffle purchase is not tax deductible, however, any gift to our programs is tax deductible.
What does my purchase do?
Your purchase helps the Partners team to fulfill its mission to empower youth and community members to achieve their full potential through mentoring, prevention education, and strategic partnership.
How can I get more involved with Partners?
If you are interested in getting involved beyond the NoCo Grocery Grab event, you can visit the link below to learn more about supporting our organization or volunteering with us!
Make an Impact. Make a Gift.
Thank You to Our Sponsors!